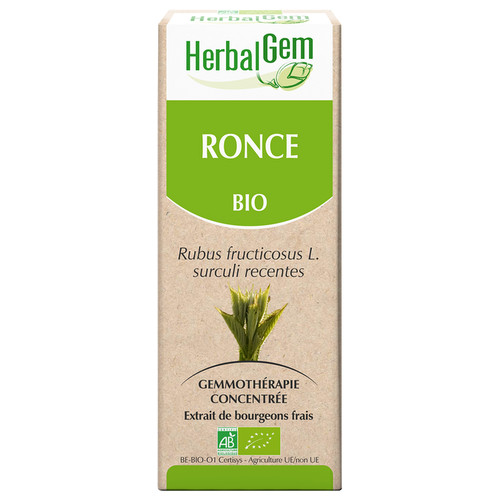 Herbalgem
1
Bramble bud extract - organic
Soothes the respiratory tracts
---
Manufacturer : Herbalgem
Content: 50.0
ML
Reference: HE058


---
Win 236 beez by buying this product
The Bramble young shoots present in gemmotherapy a similarity with the properties of the leaves, used in classical phytotherapy, namely a pulmonary tropism. They constitute in particular a remedy for emphysema, pulmonary fibrosis, chronic bronchitis and for all obstructive respiratory insufficiencies that lead to anergy. The Bramble is thus a long term tonic.
As well in its ecological environment as at the level of our internal body, this plant will restructure the degraded ground. It is thus not surprising to find it back at the level of the osteoarticular system since it has an osteoblastic action. Bramble constitutes a remedy for important deterioration of bone tissue. It will thus strengthen the bone tissue (in particular at the femorotibial level) and combat osteoporosis. Therefore Bramble is a great potential remedy, insufficiently developed, for our "modern" populations and in particular the elderly.
Its activity on fibrosclerotic tissues explains its indication in fibroids and gonarthrosis.
Bramble is also indicated in interstitial nephritis following a pyelonephritis and it makes the uterus sensitive to the action of Vaccinium vitis idaia (Cowberry).
It would be interesting to compare the gemmotherapic properties of Bramble and Vine. These 2 plants have several common points in their type of development and their ecology.
We hypothesize that Bramble, as great pulmonary remedy, is also a great future remedy for the skin.
The above information is a translation of the
FEH
with its authorisation.
Latin name
Rubus Fructicosus surc. rec. gemmae
Ingredients
Bramble* young shoots, Alcohol* (35%), Water, Vegetable Glycerine * ingredients from certified organic agriculture
Production
Based on young shoots harvested in the forests.
Properties
The HerbalGem/GemmoBase products are concentrated and 50 ml allow for a 70 days cure based on 10 drops per day. For a global view and information on gemmotherapy products from
HerbalGem
.
Traditional use
- Bronchitis (5-10 drops/day) - Fibroids (5-15 drops/day)
- Osteoporosis (5-10 drops/day)
- Pulmonary system: emphysema, fibrosis, bronchitis
- Osteo-articular system: osteoporosis, important bone deterioration, osteoblastic action, gonarthrosis
- Urogenital system: fibroma, nephritis
- Nervous system: anergy
Recommendations for use
- Take the drops 1/2h before meals, 2 to 3 times per day, pure or diluted in source water or honey. For an optimum result, put them directly on the tongue and wait for a few seconds before swallowing.
- Gradually increase the dosage (1 drop per day from 5 drops) to 15 - 20 drops. After having obtained the desired result, keep the same number of drops until the end of the cure.
- One generally recommends a 3 weeks cure, repeated 3 times, with a week of downtime between each cure.
- Correct dosage to be confirmed by your therapist.
Precautions for use
- Keep away from children.
- No specific contra-indication.
- The pregnant lady will take care not to use buds with hormonal action like raspberry, bilberry, giant redwood (or sequoia), oak.
This is a preview of the recently viewed products by the user.
Once the user has seen at least one product this snippet will be visible.
Recently viewed Products