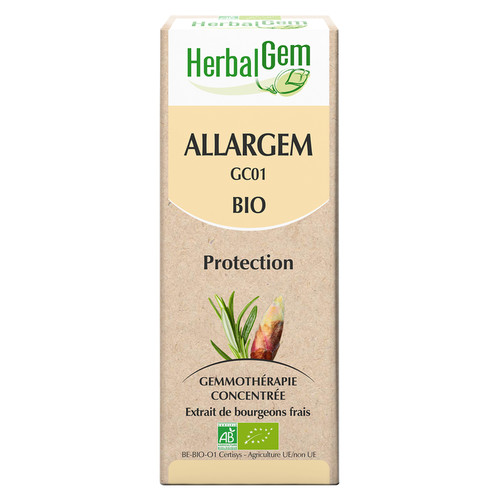 ALLARGEM - GC01 - organic
1
---
Contenu: 50.0
ML
Référence: HE001
---
Win 236 beez by buying this product
ALLARGEM gemmotherapy complex is a natural protection and rebalancing remedy against allergic reactions on external agressions.
This concentrated organic herbal remedy for allergy problems is an association of two bud extracts and propolis working in synergy:
Blackcurrant bud extract - organic bud extract acts as a potent anti-allergic agent, by stimulating the endocrine system (the suprarenal glands in particular) resulting in an increase in circulating cortisol. Known for some time as a powerful anti-toxin, Blackcurrant has proved to be very effective in the treatment of all types of allergy.
Rosemary bud extract - organic bud extract acts as a powerful cleanser of the liver. This bud extract serves to trap free radicals, thus proving very effective in combating fatigue and somnolence, while draining and eliminating allergens.
Enriched Propolis (Broad Spectrum) - organic , known as the "Bees' antibiotic", is harvested by the bees from the surface of certain buds and aromatic plants to protect the hive against bacteria and external aggressions. As it contains essential oils and flavonoids which stimulate the immune system by increasing the production of antibodies, it has an anti-viral, antibiotic and anti-allergic action, especially on the respiratory system. Propolis is a natural and effective enhancer for the action of the bud extracts in this blend.
Allargem successfully replaces synthetic cortisone without its side effects.
It is recommended,to take, if possible, this complex preventively regularly in the morning.
Ingredients
Blackcurrant* Buds (Ribes nigrum), Rosemary* Buds (Rosmarinus Officinalis), Propolis, Alcohol* (35%), Water, Vegetable Glycerin* * ingredients from certified organic agriculture
Production
From fresh buds collected in the forests or from organic farming.
Properties
Rebalances the allergic ground.
Provides rapid relief from allergies.
Maintains energy without the risk of dependence.
Stimulates the immune system.
Recommendations for use
Normally your therapist will give you the dosage corresponding to your precise problem.
Standard use and dosages for adults):
Take the drops away from (1/2h before) meals, 2 to 3 times per day, pure or diluted in source water or honey. For an optimum result, put them directly on the tongue and wait for a few seconds before swallowing.
In a general way, in acute phase, take from 2 to 5 drops 3 to 7 times per day. And that during one to maximum three days. If the acute phase is not calmed you probably need another bud.
For a one-time disease which is not in acute phase, take 5 to 15 drops per day until the symptoms disappear and during maximum 3 weeks. It might be advisable to start with 5 drops a day and gradually increase the dosage (1 drop per day) if necessary up to 15 - 20 drops. After having obtained the desired result, keep the same number of drops until the end of the cure. If necessary, after 3 weeks take and a week stopping, you can repeat the treatment during a new phase of three weeks. If such a long treatment does not have the expected result(s) you should better change of bud or remedy.
For a ground treatment (preventive and curative), take 5 to 15 drops per day for 3 weeks in a row followed by a week off and this three times. Then one month off before returning to the same cycle, if necessary.
HerbalGem/GemmoBase products are concentrated and 50 (15) ml allow for a 70 (21) days cure based on 10 drops per day.
Precautions for use
This is a preview of the recently viewed products by the user.
Once the user has seen at least one product this snippet will be visible.
Recently viewed Products