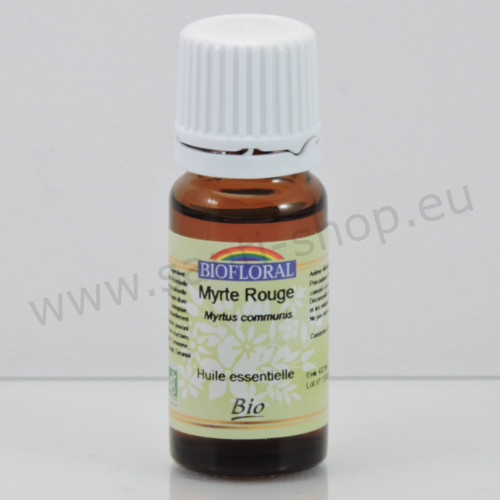 Biofloral
1
Myrtle (Red) essential oil - organic
---
Manufacturer : Biofloral
Content: 10.0
ML
Reference: BI098


---
Win 63 beez by buying this product
Red Myrtle essential oil helps release congested airways (good alternative to eucalyptus), and by so promotes the sputum (expectoration) and fights against bronchial congestion. It also helps reduce congestion in venous and lymphatic systems.
Psycho-emotionally myrtle essential oil relieves and purifies and its use will be beneficial to overcome harmful habits (smoking, drugs ...) and negative emotions (anger, greed, envy, fear ... Red Myrtle essential oil is used in massage and diffusion.
Latin name
Myrtus communis
Production
- 100% pure and natural
- from certified organic farming
Properties
- Antispasmodic.
- Venous and lymphatic decongestant.
Traditional use
- Spasmodic enterocolitis.
- Dysmenorrhoea.
- Hemorrhoids, varicose veins.
Recommendations for use
- External use: 3 drops of essential oil + 5 drops of virgin hazelnut oil on the skin area to be treated, 2-3 times a day. Massaged into the abdomen or legs.
- Atmospheric diffusion.
Precautions for use
- Do not use in the first 3 months of pregnancy.
Warning
: the above information is taken from serious books but should only be considered as preliminary information in a discussion with your doctor or aromatherapist.
This is a preview of the recently viewed products by the user.
Once the user has seen at least one product this snippet will be visible.
Recently viewed Products