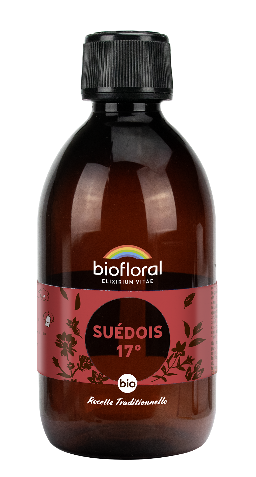 Biofloral
1
Maria Treben Swedish Bitters 17° - organic
---
Manufacturer : Biofloral
Content: 375.0
ML
Reference: BI057


---
Win 268 beez by buying this product
Maria Treben Swedish Bitters 17° according to Maria Trebe, DEPURATIVE - TONIC - DIGESTION original recipe with 59 organic plants.
Since the Middle Age, the Swedish bitters is used to stimulate the digestive functions, to support the elimination of toxins and to fight general tiredness. It supports the natural defences of the organism and contributes to your well-being.
BIOFLORAL developed the first true organic Swedish Bitters 17 ° according to the authentic formula of Maria Treben and traditional recommendations for manufacturing, ensuring a maceration of several months, gentle method to extract a maximum of the active principles without altering them. Regular checks ensure an elixir of an irreproachable quality.
Low in alcohol, its taste is more pleasant.
Ingredients
Wine*, Alcohol*, treacle * (consisting of 51 plants*, honey*, natural camphor), rhubarb* roots, rosemary* leaves, gentian* roots, angelica* roots, senna* leaves, aloe vera*, zedoary roots, myrrh, thistle *, manna, saffron * * Ingredients from certified organic farming Alcohol: approximately 17% in volume
Production
Made according to the handcrafted methods of our ancestors in the volcanic mountains of Auvergne.
• The plants, in synergy with the Bach Flower Remedies and the Spagyric essences, act in depth, by their subtle character, on the human being in his global nature.
• The active principles extracted of well associated plants (roots, leaves, flowers or fruit) complement one another for a more effective and quicker action on the organism.
• The
BACH FLOWER REMEDIES
, prepared according to the original method of Dr BACH, help to readjust the emotional disturbances and the deep blockings.
• The SPAGYRIC ESSENCES harmonize the energies on the physical, psychological and mental levels.
• A HANDCRAFTED MANUFACTURING allows respecting the plants through the use of soft and long methods (until 6 months of manufacture), guaranteeing an exceptional effectiveness.
• SEVERE CHECKS in the laboratory, with the "sensitive crystallisation" test allow us to assure you the VITALITY and the effectiveness of our Elixirs. We also carry out others analyzes to prove the absence of radioactivity and pesticides.
Traditional use
Digestion.
Elimination of the toxins.
General state of tiredness and exhaustion.
Recommendations for use
- 1 teaspoonful, pure or diluted in a glass of water 1 or 2 times a day before your meal
- to balance your organism in-depth, it is advised you continue taking the elixir for 28 days, several times a year
- shake before use. This product can have a turbid aspect, which does not harm at all its quality.
Precautions for use
- contains natural camphor: not for children under 7 years and for persons sensitive to the camphor or suffering from cardiac proven disturbances
- to be kept in a cool place after opening
This is a preview of the recently viewed products by the user.
Once the user has seen at least one product this snippet will be visible.
Recently viewed Products