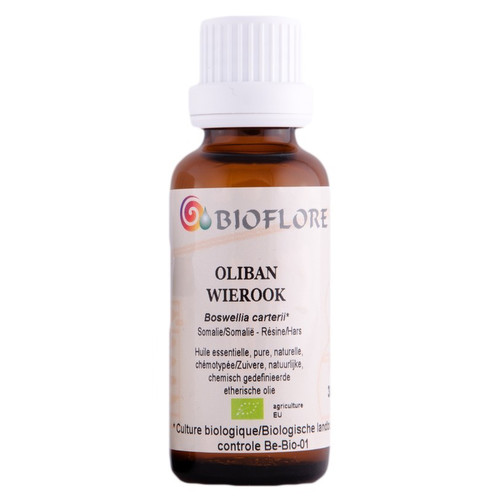 Bioflore
1
Incense or Olibanum essential oil - organic
---
Fabriquant: Bioflore
Contenu: 30.0
ML
Référence: BF095
---
Win 300 beez by buying this product
Incense or Olibanum essential oil forms a support for respiratory systems that are weakened by chronic bronchopulmonary troubles and a skin tonic and repairer. It has been used for millennia in all places of prayer and meditation to create an atmosphere of serenity.
This essential oil is very well tolerated, both in diffusion and as skin care. It boosts breathing, makes it both slower and deeper, has an expectorant action and offers better breathing comfort. It is useful in infections, inflammations as well respiratory as cutaneous, it regenerates the skin, stimulates immune and nervous system while having a soothing effect of nervous tension.
On the psychic plane, essential oil of incense opens to spirituality, gives access to a mental universe where ordinary concerns no longer have a place.
Incense or Olibanum essential oil is also known as Frankincense essential oil.
Latin name
Boswellia serrata
Origin
Somalia
Production
essential oil qualified "100% pure and natural"
Properties
anticatarrhal, expectorant
stimulating immune defenses
skin healing and - regenerating
antidepressiv
antitumor (research indicates that the essential oil of incense seems to have the ability to distinguish between healthy and cancerous cells in an organ or tissue, and lead to the death of cancer cells while safeguarding healthy ones)
Traditional use
catarrhal and asthmatic bronchitis, asthma, sinusitis
immune deficiency
dry skin, wounds, ulcer, varicose ulcer, tumors
anguish, anxiety, nervous tension, nervous breakdown
Recommendations for use
Cutaneous way (massage, bath): 5-10 drops per 10 ml of vegetable oil. Dry skin care: essential oils of incense and geranium, 2 drops of each diluted in 10 ml (= 1 tablespoon) of vegetable oil in skin care of your choice
.
Difusion: 5-10 Drops depending on preference or roomsize.
Oral way: when taking frankincense oil internally, it's best to dilute a drop in an edible carrier oil (like coconut oil) or a teaspoon of honey. However ingesting this oil is not recommended for children ages 6 and below and older children and teens may require higher dilutions.
Precautions for use
There are no reported severe side effects, however, in some rare cases, frankincense oil can cause skin rashes, gastrointestinal distress, such as nausea, stomach pain and hyperacidity.
As it has blood thinning effects, it may increase the risk of abnormal bleeding in people with a bleeding disorder or taking anticoagulant medications. Frankincense essential oil is also not recommended for pregnant women and nursing moms, as it acts as an emenagogue.
Warning
:
The above information is taken from serious books but should only be considered as preliminary information in a discussion with your doctor or aromatherapist.
The vast majority of essential oils are to be used only diluted in a vegetable oil, honey or other suitable medium respecting the recommended dosages.
When using an essential oil for the first time on the skin, always make a test on the inner sied of the elbow to make sure it does not cause any allergic reaction.
As essential oils are volatile, sensible to UV radiation and inflammable at high temperature, it is imperative to store them in a tightly closed dark glass bottle and at a temperature between 5 °C and 40 °C.
This is a preview of the recently viewed products by the user.
Once the user has seen at least one product this snippet will be visible.
Recently viewed Products